The Camp will need a printed ArriveCam form from a parent or guardian the day before each field trip your child is going on. The form should look like the following: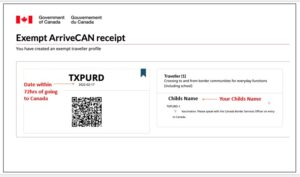 The red writing with the arrows indicates where the date should be within 72 hours of departure for the field trip and where your child's name should appear on the ArriveCan receipt.
All children must arrive before the 8:30am departure time at the Community Center and have their passports ready to be turned in to the Field Trip leaders. The bus will not be waiting for tardy attendees. Each child should have a bag lunch to bring along. Please make sure everything they carry in the lunch can come across the border. Drinks and snacks will be provided.  We hope to have a "Point Roberts Kids Camp" tee shirt for each child that we would like them to wear on field trip days. Please make sure your child has clothing appropriate for the weather. Our 1st field trip is to the Zoo and is primarily outdoors while our 2nd and 3rd field trips to Science World and the Aquarium are primarily indoors.
If we are running late on returning, it would be difficult to update all parents on our exact time getting back to the Community Center. The Park District will have a representative at the Community Center to fill you in on any revised schedule should this occur.