Welcome to the 2023 Point Roberts Kayak and Paddle Board Program
—————
The Point Roberts Park and Recreation District offers 2 types of recreational water equipment during the summer for use by residents of Whatcom County. We have 6 kayaks located at Lighthouse Park, with life vests and paddles. And we have 8 paddle boards, and 2 sit-on-top kayaks located at Maple Beach, with life vests and paddles.
To register for the program, you must be a resident of Whatcom County.
All adults must read and sign the Program Rules and Safety Waivers and send in proof of address to register for the program. Minor's parent/guardian must sign for them. Waivers must be updated yearly.
Once we receive these, we will email you with next steps for how to reserve equipment.
Completed forms and proof of address can be sent to [email protected]
Please allow 3 days for processing of registration, thank you!
Follow the steps below to begin kayaking and paddle boarding!
Step #1) Sign Up for the Program
In order to sign up for the program and take out a kayak or paddle board, please complete the 2023 Rules, Safety and Waiver form.  Please complete one form for each participant. This document contains safety and legal information that must be read and signed (in all 3 sections):
Kayak and Paddle Board Program Rules, Safety and Waivers
You must also provide proof that:
(a) You are a Whatcom County resident. Please provide a copy of your driver's license or other identification noting Whatcom County residence like a bank statement or utility or water district bill
OR
(b) You are a Point Roberts property owner. Please provide a print-out from the County website or a copy of your property tax form.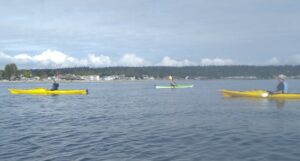 Once you have signed the Rules, Safety & Waiver, scan and email it along with your proof of residency/property ownership, contact phone number and email address to:
[email protected]
If you are unable to scan all of the registration information, then please mail it to us at:
Point Roberts Park & Recreation District
Kayak Program
PO Box 156
Point Roberts, WA 98281
We will notify you via email when you are registered and able to continue to Step B (Reservations).
Step #2)  Reserve a Kayak (Paddle Boards available on a first-come basis)**
Please submit 1 reservation request per kayak. Reservations are limited to 3 hours.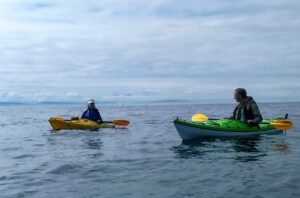 Kayak reservations are available on a first come, first serve basis.  You are only allowed to have 2 active reservations at a time within a 2 week time period. There are 4 single kayaks and 2 double kayaks, life jackets and paddles. You can check the Kayak Calendar to see if kayaks are available at the time you wish to reserve. Please complete the Schedule Request Form every time you wish to use a kayak. These forms must be completed for each kayaker before we will issue a confirmation. Be sure to list who will be your kayaking partner and include a phone number if they are not registered for the program.
**Same Day Reservation Requests will not be accepted** Once we receive your request and confirm your reservation, you will be able to access the kayaks, located in the parking lot of Lighthouse Marine Park.  We need at least 3 days notice for kayak reservations to be processed. Please pay attention to confirmation notices since access codes to the kayaks may change. The kayaks must be locked at all times except when they are being unloaded and loaded.  Please ensure you replace the lock immediately.
Buddy System
You must have a partner in a second kayak / paddle board to go out with to make a reservation. A partner in the second seat of a double kayak does not meet this requirement.  If you choose a double kayak, you will need to specify the name of the person in the 2nd seat. When specifying the name of the person in the partner kayak, you will need to specify if that person is registered with the District kayak program or if they are using their own kayak.
**Note: Paddle Boards are tentatively reserved for Kids Camp from July 10th – July 28th 2023, Monday through Friday. Outside of these dates, Paddle Boards are available on a first-come basis. Please limit your time on the boards to 2 hours to give everyone a chance to enjoy them. After you complete your registration, you will be sent an email with information on how to borrow the paddle boards.
This is a free program provided by the Point Roberts Park & Recreation District.
Additional information regarding the program can be found here:  Kayak and Paddle Board Brochure.
Thank you for participating in the Kayak and Paddle Board Program.  Please let us know if you have any comments, suggestions or concerns at [email protected].